About
Built by and for growing agencies.
Ballpark solves the problems we've had to overcome as a growing creative agency—we know what you need because we need it, too.
Hi. We're Simple Focus, a digital agency that serves clients and runs several products for small businesses and growing agencies like ours. We run Ballpark (as well as a few other apps that you might want to check out).
Since 2008, Ballpark has helped tens of thousands of freelancers and creative agency owners grow their business and make more money.
We've done this by providing a carefully curated set of beautiful, smart tools like time tracking, invoicing, budget tracking and estimates.
Our mission is to reduce the stress you feel about your business by giving you access to the tools and data you need so you (and your team) can focus on doing your best work and leveling up your business game.
Ballpark's Story
We've been focused on this vision since our inception. Ballpark was originally built by MetaLab, a renowned digital product agency. You may have heard of them: they designed Slack. They also work with brands and products that you interact with on a daily basis.
They've become what so many of us are aiming for—a growing, sustainable business that employs a crazy-talented team and does amazing work. But back in 2008, when they were only three people, they needed a simple way to send professional-looking estimates to their clients. Nothing on the market that did what they needed, so they built their first product and named it Ballpark.
As their agency grew and their needs changed, so did Ballpark. While Ballpark was getting invoicing and time tracking features, MetaLab got busy with other things and decided it was time to sell Ballpark so that another team could "give it the love it deserves".
We wanted someone who would take great care of our customers and grow Ballpark into something even better.

That's when Andrew met JD Graffam, the owner of Simple Focus. Ballpark was originally built by their growing agency to solve their problems, and it made sense to hand it over to another fast-growing agency who had the skill, passion and energy to carry the vision forward.
So in 2015, Simple Focus bought Ballpark and immediately started planning new features; we even built a few and promised to keep improving the product.
As part of that promise, we started to redesign the app in 2016 to focus on more ways to support the needs of growing agencies like ours. It took a while, but we launched the redesign in 2018 and we're very proud of it.
We are transforming Ballpark into the go-to time tracking, invoicing and estimate software for freelancers and growing agencies by constantly adding valuable features our customers need.
Meet Our Team
We are a happy team of interface experts who work across the United States with offices in Memphis and Chattanooga, TN, and Portland, OR.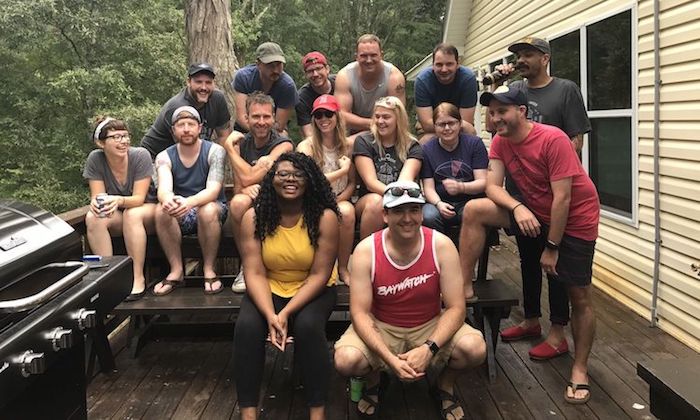 As our agency's needs evolve, process, organization, and communication are no longer nice-to-haves; they're vital to the health and sustainability of our business. When we set out to redesign Ballpark, we knew the trick was building a product that meets us where we are and is enjoyable and enlightening to use, but that can grow with us and help guide us towards sustainability by surfacing the data we need to remain profitable and focused on our work.
We built Ballpark to be smart and simple. It's powerful and easy to use. It's fun and businessy. We make Ballpark because we think software can be all of these things. And that's why we want to make it easy for you to try.